NdFeB magnets -The Strongest Permanent Magnets Today
NdFeB(Neodymium-Iron-Boron) magnet is used most popular by people in industry and our daily life, because it has superior magnetic properties than other kind of magnets. The outstanding characteristics are as follows--------
¡¤Higher unit magnetic properties than other magnet and assure you of smaller size and lighter weight in designing devices.
¡¤Being mostly an iron based alloy, NdFeB type rare earth magnet is much more prone to surface oxidation or rust. To eliminate such a problem, the user should consider magnet coating, plating, or suitable surface treatment.
¡¤Being less prone to chipping during handing
¡¤Lower temperature coefficient of magnetic properties than ceramic but higher than SmCo type rare earth magnet. Therefore, this NdFeB type rare earth magnet will suffer irreversible loss at high temperature.
Surface Treatment Method:

Metallic: Zinc,Nickel,Nickel+Nickel,Copper+Nickel,Nickel+Copper+Nickel,Gold
Organic: Epoxy,Nickel+Epoxy coating
Temporary: Surface Pssivation

Magnetization Way: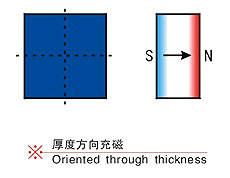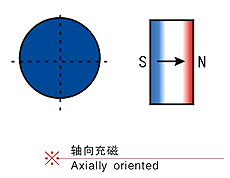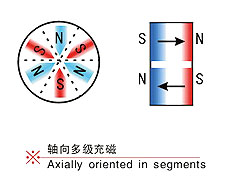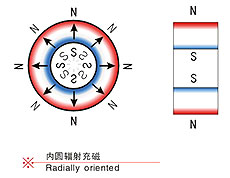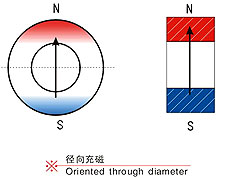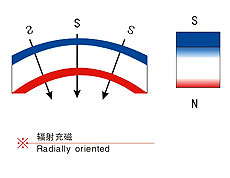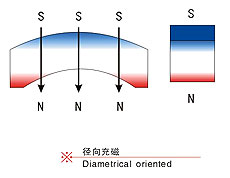 Sintered NdFeB Magnets
MAGNETIC AND PHYSICAL CHARACTERISTICS:
TYPE

Remanence Br

Coercivforce bHc

Intrinsic coercive force iHc

Max. energy product (BH) max

Working Temperature

KGs

T

KOe

KA/m

KOe

KA/m

MGOe

KJ/m3

0C

3 N-35

11.7-12.1

1.77-12.1

10.8-11.5

860-915

=12

=955

33-35

263-279

=80

4 N-36

11.9-12.2

1.19-1.22

11.0-11.4

876-907

=12

=955

34-36

271-287

=80

5 N-38

12.4-12.6

1.24-1.26

11.4-11.5

907-915

=12

=955

37-38

295-303

=80

6 N-40

12.7-12.9

1.27-1.29

10.5-11.0

915-923

=12

=955

39-40

310-318

=80

7 N-42

13.0-13.3

1.30-1.33

10.0-10.5

796-836

=12

=955

40-42

318-334

=80

8 N-43

13.0-13.3

1.30-1.33

10.5-11.0

836-876

=12

=955

41-43

326-342

=80

9 N-45

13.3-13.7

1.33-1.37

10.5-11.0

836-876

=12

=965

43-45

358-342

=80

10 N-48

13.7-14.0

1.37-1.40

10.5-11.0

836-876

=12

=965

47-51

374-390

=80

11 N-50

14.0-14.6

1.40-1.46

10.5-11.0

836-876

=12

=965

47-51

358-390

=80

12 N-27M

10.2-10.6

1.02-1.06

9.6-10.1

764-804

=15

=1194

25-27

199-215

=100

13 N-30M

10.8-11.2

1.08-1.12

10.1-10.6

804-844

=15

=1194

28-30

223-239

=100

14 N-33M

11.4-11.7

1.14-1.17

10.5-11.1

844-884

=15

=1194

31-33

247-263

=100

15 N-35M

11.7-12.1

1.17-1.21

10.8-11.5

860-915

=15

=1114

33-35

263-279

=100

16 N-36M

11.9-12.2

1.19-1.22

11.1-11.6

884-923

=15

=1194

34-36

271-287

=100

17 N-38M

12.2-12.6

1.22-1.26

10.8-11.5

860-915

=14

=1114

36-38

287-303

=100

18 N-40M

12.6-12.9

1.26-1.29

10.8-11.5

860-915

=14

=1114

38-40

303-318

=100

19 N-42M

13.0-13.3

1.30-1.33

10.8-11.4

860-907

=14

=1114

40-42

318-334

=100

20 N45M

13.3-13.7

1.33-1.37

10.8-11.4

860-907

=17

=1114

43-45

334-358

=100

21 N-27H

10.2-10.6

1.02-1.06

9.6-10.1

764-804

=17

=1353

25-27

199-215

=120

22N-30H

10.8-11.2

1.08-1.12

10.1-10.6

804-844

=17

=1353

8-30

223-239

=120

23 N-33H

11.4-11.7

1.14-1.17

10.6-11.1

844-884

=17

=1353

31-33

247-263

=120

24 N-35H

11.7-12.1

1.17-1.21

10.8-11.5

860-915

=17

=1353

33-35

263-279

=120

25 N-36H

11.9-12.2

1.19-1.22

11.1-11.6

884-923

=17

=1353

34-36

271-287

=120

26 N-38H

12.2-12.6

1.22-1.26

11.5-12.0

915-955

=17

=1353

30-36

287-303

=120

27 N-40H

12.6-12.9

1.26-1.29

11.5-12.0

915-955

=17

=1353

38-40

303-318

=120

28N-27SH

10.2-10.6

1.02-1.06

9.6-10.1

764-804

=20

=1592

25-27

199-215

=150

29N-30SH

10.8-11.2

1.08-1.12

10.1-10.6

804-844

=20

=1592

28-30

223-239

=150

30N-33SH

11.4-11.7

11.4-11.7

10.6-11.1

844-884

=20

=1592

31-33

247-263

=150

31N-35SH

11.7-12.1

1.17-1.21

10.8-11.5

860-915

=20

=1595

33-35

263-279

=150

32N-38SH

12.1-12.5

1.21-1.25

10.8-11.5

860-915

=20

=1592

36-38

287-302

=150

31N25UH

9.8-10.2

0.98-1.02

9.2-9.6

732-764

=25

=1990

23-25

183-199

=180

32N28UH

10.4-10.8

1.04-1.08

9.8-10.2

780-812

=25

=1990

26-28

207-223

=180

33N30UH

10.8-11.2

1.08-1.12

10.1-10.6

804-844

=25

=1990

28-30

223-239

=180

34N35UH

11.7-12.1

1.17-1.21

10.5-11.2

836-890

=25

=1989

33-35

263-278

=180

35N38UH

12.2-12.6

1.22-1.26

11.7-12.0

930-955

=25

=1989

33-38

280-302

=180

36N30EH

10.8-11.2

1.08-1.12

10.1-10.6

804-844

=30

=2229

28-30

223-239

=200

37N33EH

11.4-11.7

1.14-1.17

10.4-11.0

844-876

=30

=2229

30-33

247-263

=200

38N35EH

11.7-12.1

1.17-1.21

10.8-11.5

860-915

=30

=2229

33-35

263-279

=200