Ferrite(Ceramic) Magnet is manufactured from oxide materials using powder metallurgical process. Ceramic magnet is most widely used because of its low cost, high-energy, good electric insulation and excellent resistance to demagnetization. The most common type of ceramic magnets are anisotropic strontium, anisotropic barium and isotropic barium magnet.

There are two manufacturing process for ferrite magnets:
Dry Process & Wet Process.By dry process, can produce isotropic & anisotropic magnets; by wet process, only anisotropic magnets can be produced.Isotropic ferrite magnets are not oriented and can be magnetized in any direction; anisotropic ferrite magnets are different, they are all oriented in the manufacturing direction, and should be magnetized in the direction of orientation. For dry process, the tool can be changed and developed easily, while for wet process, it is complicated to change the tool and the tooling charge is much higher. At present, we have put our emphasis on arc segment magnets for electric motors, disc magnets and block magnets for special applications .

Grade
Value(min/typical in our factory)
Br
Hcb(BHC)
Hcj(IHC)
(BH)max
MT
KG
KA/m
Koe
KA/m
KOe
Kj/m3
MGOe
Y10T(=C1)
200/218
2.00/2.18
125/145
1.57/1.82
210/250
2.64/3.14
6.5/8.0
0.8/1.0
Y25
360/370
3.60/3.70
135/150
1.70/1.88
140/170
1.76/2.14
22.5/25.3
2.8/3.2
Y30(=C5)
380/385
3.80/3.85
191/210
2.40/2.64
199/220
2.50/2.51
26.0/28
3.4/3.7
Y30BH
380/390
3.80/3.90
223/235
2.80/2.95
231/245
2.90/3.08
27.0/30.0
3.4/3.7
Y33
410/420
4.10/4.20
220/235
2.77/2.95
225/240
2.83/3.01
31.5/33.0
4.0/4.2
Y35
400/410
4.00/4.10
175/195
2.20/2.45
180/200
2.26/2.51
30.0/32.0
3.8/4.0
C8(=C8A)
385/390
3.85/3.90
235/255
2.95/3.20
242/265
3.05/3.33
27.8/30.0
3.5/3.7
C10
400/410
4.00/4.10
288/300
3.62/3.77
280/287
3.51/3.60
30.4/31.9
3.8/4.0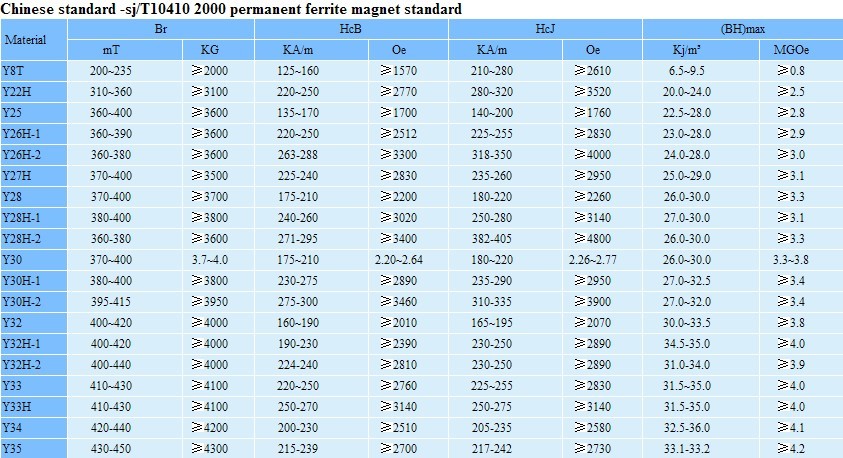 USA standard - permanent ferrite magnet industry standard of USA
Material
Br
HcB
HcJ
(BH)max
mT
KG
KA/m
KOe
KA/e
KOe
kj/m3
MGOe
C1
230
2.3
148
1.86
258
3.5
8.36
1.05
C5
380
3.8
191
2.4
199
2.5
27
3.4
C7
340
3.4
258
3.23
318
4.00
21.9
2.75
C8(=C8A)
385
3.85
235
2.95
242
3.05
27.8
3.5
C8B
420
4.2
232
2.913
236
2.96
32.8
4.12
C9
380
3.8
280
3.516
320
4.01
26.4
3.32
C10
400
4.0
288
3.617
280
3.51
30.4
3.82
C11
430
4.3
200
2.512
204
2.56
34.4
4.32
Japan TDK standard
Grade
Composition
Br
Hcb
Hcj
BH max
¡¡
¡¡ ¡¡
mT
kG
kA/m
kOe
kA/m
kOe
KJ/m3
MGOe
FB40
SrO6Fe2O3
410+/-10
4.1+/-10
234.8+/-11.9
2.95+/-0.15
238.7+/-15.9
3.0+/-0.2
31.4+/-1.6
3.95+/-0.2
FB3N
SrO6Fe2O3
395+/-15
3.95+/-15
234.8+/-11.9
2.95+/-0.15
238.7+/-15.9
3.0+/-0.2
28.7+/-2.4
3.6+/-0.3
FB3G
SrO6Fe2O3
375+/-15
3.75+/-15
254.6+/-15.9
3.2+/-0.2
270.6+/-19.9
3.4+/-0.25
25.9+/-2.4
3.25+/-0.3
FB3X
SrO6Fe2O3
375+/-15
3.75+/-15
234.8+/-11.9
2.95+/-0.15
238.7+/-15.9
3.0+/-0.2
25.9+/-2.4
3.25+/-0.3
FB1A
SrO6Fe2O3
220+/-15
2.20+/-15
159.2+/-15.9
2.0+/-0.2
258.6+/-19.9
3.25+/-0.25
8.9+/-1.6
1.1+/-0.2
FB5H
SrO6Fe2O3
405+/-15
4.05+/-15
298.4+/-11.9
3.75+/-0.15
322.3+/-11.9
4.05+/-0.15
31.1+/-1.6
3.9+/-0.2
FB4X
SrO6Fe2O3
420+/-10
4.20+/-10
234.8+/-11.9
2.95+/-0.15
238.7+/-15.9
3.0+/-0.2
33.4+/-1.6
4.2+/-0.2
FB4B
SrO6Fe2O3
400+/-10
4.00+/-10
254.6+/-11.9
3.2+/-0.2
262.6+/-19.9
3.3+/-0.25
30.3+/-1.6
3.8+/-0.2
FB4A
SrO/BaO6Fe2O3
410+/-10
4.10+/-10
175.1+/-15.9
2.2+/-0.2
176.7+/-15.9
2.22+/-0.2
31.8+/-1.6
4.0+/-0.2
FBGN
SrO6Fe2O3
440+/-10
4.40+/-10
258.6+/-11.9
3.25+/-0.15
262.6+/-11.9
3.3+/-0.15
36.7+/-1.6
4.6+/-0.2
FB6B
SrO6Fe2O3
420+/-10
4.20+/-10
302.4+/-11.9
3.8+/-0.15
318.3+/-11.9
4.0+/-0.15
33.4+/-1.6
4.2+/-0.2
FB6H
SrO6Fe2O3
400+/-10
4.00+/-10
302.4+/-11.9
3.8+/-0.15
358.1+/-11.9
4.5+/-0.15
30.3+/-1.6
3.8+/-0.2
FB6E
SrO6Fe2O3
380+/-10
3.80+/-10
290.5+/-11.9
3.65+/-0.15
393.9+/-11.9
4.95+/-0.15
27.5+/-1.6
3.45+/-0.2
FB5N
SrO6Fe2O3
440+/-10
4.40+/-10
256.8+/-11.9
2.85+/-0.15
2259.2+/-11.9
2.88+/-0.15
36.7+/-1.6
4.6+/-0.2
FB5B
SrO6Fe2O3
420+/-10
4.20+/-10
262.6+/-11.9
3.3+/-0.15
266.6+/-11.9
3.35+/-0.15
33.4+/-1.6
4.2+/-0.2
The standard from International Electronics Committee(IEC404-8-1)
Grade
Allowed Value (min/typical)
Br
Hcb(BHC)
Hcj(IHC)
(BH)max
MT
KG
KA/m
KOe
KA/m
KOe
Kj/m3
MGOe
HF8/22
200/220
2.00/2.20
125/140
1.57/1.76
220/230
2.76/2.89
6.5/6.8
0.8/1.1
HF20/19
320/333
3.20/3.33
170/190
2.14/2.39
190/200
2.39/2.51
20.0/21.0
2.5/2.7
HF20/28
310/325
3.10/3.25
220/230
2.76/2.89
280/290
3.52/3.64
20.0/21.0
2.5/2.7
HF22/30
350/365
3.50/3.65
255/265
3.20/3.33
290/300
3.64/3.77
22.0/23.5
2.8/3.0
HF24/16
350/365
3.50/3.65
155/175
1.95/2.20
160/180
2.01/2.26
24.0/25.5
3.0/3.2
HF24/23
350/365
3.50/3.65
220/230
2.76/2.89
230/240
2.89/3.01
24.0/25.5
3.0/3.2
HF24/35
360/370
3.60/3.70
260/270
3.27/3.39
350/360
4.40/4.52
24.0/25.5
3.0/3.2
HF26/16
370/380
3.70/3.80
155/175
1.95/2.20
160/180
2.01/2.26
26.0/27.0
3.2/3.4
HF26/18
370/380
3.70/3.80
175/190
2.20/2.39
180/190
2.26/2.39
26.0/27.0
3.3/3.4
HF26/24
370/380
3.70/3.80
230/240
2.89/3.01
240/250
3.01/3.14
26.0/27.0
3.3/3.4
HF26/26
370/380
3.70/3.80
230/240
2.89/3.01
260/270
3.27/3.39
26.0/27.0
3.3/3.4
HF26/30
385/395
3.85/3.95
260/270
3.27/3.39
300/310
3.77/3.89
26.0/27.0
3.3/3.4
HF28/26
385/395
3.85/3.95
250/265
3.14/3.33
260/275
3.27/3.45
28.0/30.0
3.5/3.8
HF28/28
385/395
3.85/3.95
260/270
3.27/3.39
280/290
3.50/3.60
28.0/30.0
3.5/3.8
HF30/26
395/405
3.95/4.05
250/260
3.14/3.33
260/270
3.27/3.39
30.0/31.5
3.8/3.9
HF32/17
410/420
4.10/4.20
160/180
2.01/2.26
165/175
2.07/2.20
32.0/33.0
4.0/4.1
HF32/22
410/420
4.10/4.20
215/225
2.70/2.83
220/230
2.76/2.89
32.0/33.0
4.0/4.1
HF32/25
410/420
4.10/4.20
240/250
3.01/3.14
250/260
3.14/3.27
32.0/33.0
4.0/4.1
Physical property of hard ferrite magnets
Typical Physical Properties
Curie Temperature (¡ãC)
450
Maximum Operating Temperature (¡ãC)
250
Hardness (Hv)
480-580
Density (g/cm3)
4.8 - 4.9
Relative Recoil Permeability (¦Ìrec)
1.05 - 1.20
Saturation Field Strength, kOe (kA/m)
10 (800)
Temperature Coefficient of Br (%/¡ãC)
-0.2
Temperature Coefficient of iHc (%/¡ãC)
0.3
Tensile Strength (N/mm)
<100
Transverse Rupture Strength (N/mm)
300